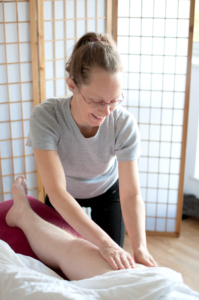 Appointments are currently available in Eastbourne and in London.
Eastbourne
On Wednesdays, Thursday evenings, Fridays and Saturdays I offer appointments from 10am till 8pm at my first floor treatment room in Old Town in Eastbourne. An initial appointment is is £40 for 75 mins to allow time for a full consultation. Follow on appointments are £40 for 60 mins/£55 for 90 mins.
On Thursdays I also have a clinic in a ground floor treatment room at the AGE Concern Venton Centre in Eastbourne's town centre (behind the railway station, opposite Kwik Fit). Appointments are £35 for 60 mins, initial appointments are 75 mins as above. Please phone me on 07958 516262 to book an appointment.
London
I'm no longer working at Neals Yard Therapy Rooms on Sundays but on Mondays and Tuesdays I have a very limited number of appointments available for my mobile massage service, operating within a reasonable distance of Balham. Appointments are £50 for 60mins, £75 for 90mins.
On-site chair massage
I provide businesses and other organisations with an on-site chair massage service offering seated, clothed back, neck and shoulder massages at the organisation's premises. This requires a minimum of five participants. Please phone 07958 516262 to discuss.
Seated, clothed chair massage can be very effective in reducing aches and stiffness from work days spent at a computer and can prove relaxing and energising for staff.
Cancellations
I understand that plans sometimes have to change, but please give me as much notice as you can if you have to cancel. Appointments which are cancelled with less than 24 hours notice are charged at the full price unless I am able to re-fill them.